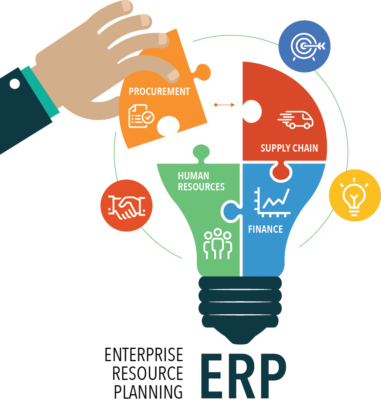 ERP System Development
India's most prominent ERP  Development Company, ERP solutions Outsourcing.
We are a noticeable ERP development company, develops basic, versatile, and robust ERP systems for your Business Operations. Enterprise resource planning (ERP) is an enterprise application intended to be utilized by a more significant business organization. While Small business ERP applications are lightweight business management software customized for the business industry you have worked in.
It is process management software related to business that permits the business association to computerize, plan, work together, and execute their business necessities. ERP manages the business and robotizes a few back-office functions, technical viewpoints, and HR.
The Enterprise Resource Planning system gives one focal vault to all data that different ERP modules will share to improve its information flow. The information shared by various clients across the organizations can be constant so that there is no mistake and miscommunication.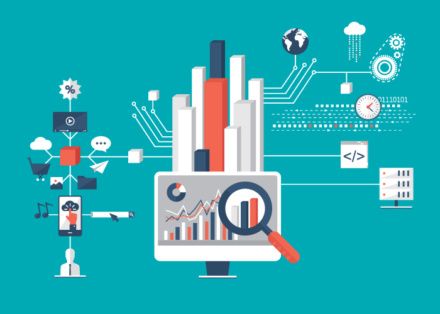 The benefits of ERP systems
Operational costs are reduced
As a result of ERP systems, you can merge processes across departments, making it easier to identify and anticipate problems. You will also have the opportunity to find ways to resolve those issues faster, so any disruptions or delays in your business will have less impact on your company's reputation.
Efficiencies and productivity are improved
The ERP software automates tasks such as updating inventories, generating reports, and monitoring sales. Automating your business saves you time and reduces human error, allowing you to focus on other areas.
Accurate reporting
Businesses need data to know where they are, where they've been and where they can go if they continue on their current path or make adjustments. ERP's business intelligence and analytics functions can give you insight into your business and help you make adjustments where needed to optimize performance.
Compliance with regulatory requirements streamlined
Businesses across many industries can struggle with staying compliant as industry standards change. You can receive real-time updates on compliance protocols through many ERP systems that provide compliance reporting features.
Some of the standard ERP modules include product planning, material purchasing, inventory control, accounting, distribution, marketing, finance, and HR. ERP systems will intend to handle specific functions and business processes. We comprehend the significant job every module plays, and we assist you with creating an incredible ERP system.
How Should ERP Systems Be Used?
Any ERP will streamline operations and integrate multiple systems into one, regardless of why it's chosen. Depending on your needs and what your ERP provider offers, you can choose to integrate any or all of these systems:
Inventory management: Inventory management features make it easy for you to track stock levels, organize replenishment schedules, and identify items with serial numbers throughout your organization.
Purchasing: The procurement modules manage the purchasing process and interact with inventory and SCM modules.
Sales and Marketing: Among these modules are inquiries, quotes, orders, and invoices which handle sales workflows. It's also possible to track shipments and integrate tax rules with more advanced implementations. Using the CRM module, the sales cycle is sped up to generate more profit.
Manufacturing: Manufacturing efficiency is the goal of this module, also known as Production or Engineering. Among its features are forecasting and planning of products, monitoring of production operations, and more. Inventory management and supply chain management are integrated into the system.
Financial management: Capital management allows you to track money coming into and leaving the business more easily. It includes transactions such as expenditures, balance sheets, tax management, and bank reconciliation. Any department can also generate financial reports with it.
Customer relationship management (CRM): Customer relationship management improves profit per capita and customer service. It deals with leads, customer issues, and customer opportunities. To speed up conversions in an ERP, it works closely with the sales module.
Supply chain management (SCM): You can integrate purchase order management, process automation, and production flow from production to consumer, as well as recalls and returns, in this module.
Human resource management (HRM): The employee information includes time sheets, performance reviews, payroll systems, and job profiles.
Automated reporting: Reporting is easy across all departments with these modules. Employees won't need to pull reports from different systems.
Business intelligence (BI): With these modules, data-driven decisions for the future of the company can be made more easily. A BI module is typically found only in large ERP packages.
Project Management: By connecting project activities with company financials, this module makes it easy to track whether projects are successful or not. This will allow you to see if you're completing projects on time and within budget.
Compliance monitoring: Using this module, you can ensure your business is following industry regulations. For example, it addresses local law compliance, security measures, and documentation requirements.
IT optimization: IT optimization helps keep systems running smoothly.
Asset management: The purpose of this module is to manage your physical assets, such as your building and manufacturing equipment.
E-commerce: Modules like this one integrate the management of multiple online sales channels with other ERP modules.
ERP systems come in many different forms. In considering your options for a new ERP, consider your specific product, as well as your IT and operational infrastructure. The new ERP system will replace your existing business management software and allow you to connect your front and back offices more easily. ERP solutions can help companies of all sizes address business needs with these common use cases.
Tell us about your project
Let us help you get your business online and grow it with passion
Get the best out of your online marketing budget and make you stay ahead of your competitors.
Got in touch with Simplified Software Solutions for getting our website done. Met Kushal who has been extremely helpful right from day 1. From the briefing that I gave him, he gave me fantastic suggestions on how the website should look. I was very happy with the final output. Not only that he even helped us with the best server solutions and assisted in every way when an upgrade was needed. All this at a price that's an extremely good value for money. Looking forward to working with him again
Highly recommended Deepankar Sadekar
Founder at www.throttle-blips.com
I am very impressed by the quality of work carried out at S3. I have worked with developers for over 10 years, and I have never had a development delivered with fewer changes than with yours. The team displays a real understanding of our issues and comes up with suggestions and impressive ideas. This has led to a better overall work relationship. If I had to do it all over again, I would select S3 as our outsourcing provider again. Imtiyaz Khan
Imtiyaz, Viscomm 360 Communications Pvt. Ltd.
Reliable company. My app turned out very nice. Happy with the company's support and staff. Good work and completely satisfied.