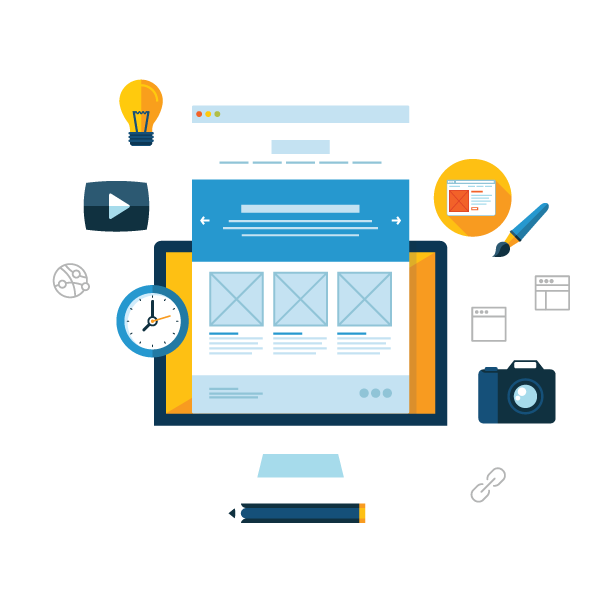 Web Designing Company
A website should not just draw attention. The role of a website is to attract and engage the user, as well as communicate your brand and raise awareness about a product or service.
Your customers will not give you a second chance to make a first impression
In a digital world, first impressions are crucial, and an exceptional web design is a way to progress. Users appreciate visiting sites that are tastefully engaging and simple to explore. Allow our team to help your site establish a remarkable first impression with speed and openness.
Smarts3 can get your business noticed by creating a brand personality with a long-lasting impact in the digital world. We give different flexible plan designs and spotlight on making a website to accommodate your brand while connecting with your visitors. Our team presents, reexamine, and teams up with you until we settle the ideal design for your requirements.
It is our undertaking to improve the foot profits of our customers by giving them a serious edge. Our success mantra is honest; keep the clients upbeat! We comprehend that our clients are the embodiment of our prosperity. They are our brand ambassadors, and keeping them glad methods rehash business and more references.
Each project presents its objectives, audience, and opportunities. Our way to deal with great projects starts with a reliable interaction that finds and addresses the unforeseen.
Tell us about your project
Let us help you get your business online and grow it with passion
Thrive online — get best unbeatable interactive experience based on the smart design and innovative technology. Ready to get started?
Got in touch with Simplified Software Solutions for getting our website done. Met Kushal who has been extremely helpful right from day 1. From the briefing that I gave him, he gave me fantastic suggestions on how the website should look. I was very happy with the final output. Not only that he even helped us with the best server solutions and assisted in every way when an upgrade was needed. All this at a price that's an extremely good value for money. Looking forward to working with him again
Highly recommended Deepankar Sadekar
Founder at www.throttle-blips.com
I am very impressed by the quality of work carried out at S3. I have worked with developers for over 10 years, and I have never had a development delivered with fewer changes than with yours. The team displays a real understanding of our issues and comes up with suggestions and impressive ideas. This has led to a better overall work relationship. If I had to do it all over again, I would select S3 as our outsourcing provider again. Imtiyaz Khan
Imtiyaz, Viscomm 360 Communications Pvt. Ltd.
Reliable company. My app turned out very nice. Happy with the company's support and staff. Good work and completely satisfied.