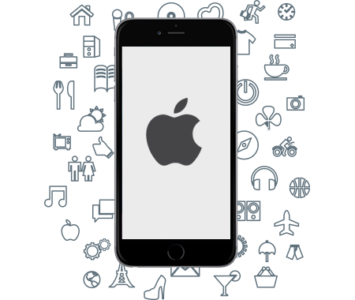 Best iOS - iPhone App Development Company
IPHONE APP DEVELOPMENT - Providing you seamless iOS Solutions
Our specialized mobile App development services offered to all our customer's has several advantages, which mentioned below:
- iPhone app development helps in brand promotion
- Helps you connects with customers from all over the world
- It enhances the exposure with your niche market
- Helps customers to recognize your business soon
- It is a cost-efficient marketing tool
The Tools That We Use For iPhone Application Development:
JSON

XCODE - SWIFT & OBJECTIVE C

iOS SDK & LIBRARIES

iOS VIRTUAL MACHINE

iOS SIMULATORS

iOS DEVICES
iPhone application development is steadily increasing as it is the second most popular operating system after Android, with its market share of 31.83% ( online sources ) in 2017. iOS (formerly iPhone OS) is a mobile operating system created and developed by Apple Inc. exclusively for its hardware. The operating system presently powers many mobile devices, including the iPhone, iPad, and iPod Touch.
The iOS Software Development Kit (SDK) contains the tools and interfaces needed to develop, install, run, and test the native apps that appear on iOS devices. Native iPhone application development is done using the iOS system frameworks and Objective-C / Swift language and run directly on iOS.
Unlike web apps, the native iPhone application is installed physically on a device and is always available to the user, even in Airplane mode. They reside next to other system apps, and both the app and user's data will get synced to the user's computer through iTunes.
Smarts3 uses our iPhone application development projects' tools to be a standard-issue with professional custom application development. We have a team with 9+ years of experience. They are capable enough of designing any app you imagine into a fully functional iPhone application.
iPhone applications developed by us built using the iOS Software Development Kit (SDK) contain the tools and interfaces needed to design, install, run, and test the native apps. The development of your requirement's iPhone application will carefully get checked by support softwares like debuggers, external libraries, and database management systems, which adds super exciting features to the application and makes it exciting and engaging for the end-user.
Smarts3 provides a bespoke analysis of your requirement and tailors it to meet your business needs – go mobile!
Requirement

Our distinctive approach to iPhone App Development starts with the work of the UI/UX-designer. We perform the analysis of your needs, the market, and your targeted audience.
As a result, the client receives an analysis of the market, size, competition level and competitors, targeted audience, and application positioning. A high-quality custom iOS App development is impossible without analyzing the requirements.
Planning
At the planning stage, we look for answers to the questions. We deeply analyze the requirement of the app.
What is the objective of the application? What features should it have?
When all business tasks are precise, we list all possible user interactions with the application, plan the application's architecture, and create a prototype.
Development
Smarts3 carefully design all your app screens and elements it requires of your future iOS App. Moreover, we take into account all of Apple's recommendations or guidelines for the design. As a result, we develop a user-friendly and functional design of the iPhone App.
After preparing a design, a prototype, and a technical analysis, we initiate the iPhone app development. To deliver the best possible app, we consider its features and the platform's supported libraries.
Testing & Deployment
During the iPhone App development, we continuously test both the existing product and the drawn layout. At this stage, it's pretty essential to get feedback and understand if the app is working correctly. We put particular emphasis on testing and bug fixing of the app.
To do this, we have different ios devices in the company and test them on iOS simulators. A high-quality product is ready to deploy.
Maintenance

The recently developed iPhone application would not mean to last forever. Within a few months, Apple will update the iOS version, and the customers will want new features. It will demand continuous application updates. Smarts3 will maintain healthy communication with you and ensure that the investment you have made in custom iPhone app development gives the best value for money.